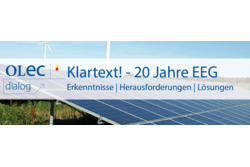 20 years of the EEG have achieved a lot and brought about the energy turnaround in Germany in many areas. However, it is becoming increasingly apparent that the instrument is not very future-oriented, places a burden on the community in the wrong places, tends to prevent rather than promote innovation, ignores new market models and has no clear objective in dealing with old plants.
In addition, it seems increasingly unlikely to be able to overcome the climate crisis and achieve the 2 degree target or even the 1.5 degree target of the Paris Climate Convention. A study recently published by the Wuppertal Institute for Climate, Environment and Energy shows that the efforts made so far resemble a flash in the pan and that Germany would have to convert to a climate-neutral energy system by 2035. Utopian in view of the current rate of expansion of renewable energies.
So what must be done to create an energy system of the future that is resilient, green and renewable? Is the EEG the right framework or do other instruments need to be developed? What must the market regulate and where must politics regulate? And what can we do locally and regionally to achieve this goal?
Discuss with us and our experts* on 08.12.2020 in the sixth and last digital event of the series OLEC dialog "Klartext!" in 2020. Here you will find all information about the podium and registration.
Translated with www.DeepL.com/Translator (free version)