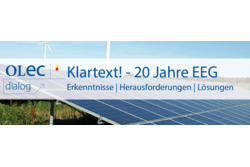 The achievement of our national climate targets is built on the foundation of a further expansion of decentralized and renewable energy generation. More and more often, projects for the expansion of renewable energies are being delayed or even failing, not only because of stricter building and emission protection laws, but also because of resistance from citizens* and regional initiatives. The reasons for complaint range from a debate on the consequences of infrasound and electrosmog, which is in part far removed from the facts, to concerns about animal and environmental protection and "visual landscape pollution". In addition, changes in the general conditions make repowering of existing sites almost impossible. The expansion of the urgently needed network infrastructure is also highly controversial in parts of the population.
Renewable electricity is welcome, but please not in my garden, my community, my district. At the same time, renewable energy projects offer excellent opportunities, e.g. through cooperative models, to involve communities and citizens directly and to create acceptance. Experience shows that acceptance is particularly high where citizens participate directly.
It is a fact that the further necessary expansion can only be successful if there is a broad basis of acceptance, and citizens, companies and communities must be taken along on the road to a new energy future. How can we succeed in convincing people in a positive sense by means of fact-based persuasion in an objective discussion and at the same time take personal feelings and individually perceived disadvantages seriously? Which strategies are successful and where are the obstacles? Where can and must politics support and provide a framework?
Discuss with us and our experts:
Ilka Müller, Project Manager, Agency for Renewable Energies
Christoph Krieger and Ralf-Peter Janik, Cooperative Association Weser-Ems e.V.
Prof. Dr. Ulrich Scheele, Partner ARSU GmbH and OLEC board member
Anne Schmidt, Agency for Communication RAIKESCHWERTNER GmbH
tba

The event will be moderated by Tanja Föhr.
Here you find further Informations.
Translated with www.DeepL.com/Translator (free version)