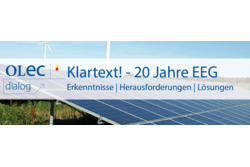 The EEG will be 20 years old this year and OLEC celebrates its 15th anniversary. OLEC would like to take this as cause and discuss together with representatives* inside from economics, science, politics and member shank of the network the past developments and future challenges of the EE industry in the context of the Web conference row OLEC dialogue - plain language!
On the one hand, a summary of the successes and setbacks of the past years and the resulting learning effects will be drawn. On the other hand, future challenges for the industry, politics and society in the Northwest will be discussed and exciting contributions and solutions of the region will be presented.
The fifth web discussion in the series "OLEC dialog - Klartext!" on the topic: "How can green hydrogen drive the energy turnaround" will take place on 27.10.2020 from 16.00 - 17.00 Digital via ZOOM.
In the German government's national hydrogen strategy green hydrogen is seen as an important driver for the further development and completion of the energy turnaround. The Northwest already fulfills many of the prerequisites for the development of a green hydrogen economy, among others with its high share of renewable energies, innovative companies and cavern fields which could also be used for hydrogen storage. Technologically mature processes are also available, for example for electrolysis based on renewable energies.
Despite these potentials, a market penetration on a national and regional level is still missing. Why is this so? How can the development of a green hydrogen economy gain momentum and generate added value?
Discuss with us and experts* from industry, science, administration and politics:
N.N., German Energy Agency GmbH (dena)
Eva Stede, EWE Gasspeicher GmbH
Dr. Magnus Buhlert, Ministry for Environment, Energy, Building and Climate Protection of Lower Saxony
Klaus Stolzenburg, PLANET Planungsgruppe Energie und Technik GbR

The event will be moderated by Tanja Föhr.
Here you can register for the event.
The OLEC dialog series "Klartext" is sponsored by the Ministry for Environment, Energy, Building and Climate Protection of Lower Saxony.
Translated with www.DeepL.com/Translator (free version)